Active Transportation Plan
See below for WebMap link
Project Overview
The City of Clovis is updating its Active Transportation Plan. The Plan will establish goals and objectives to improve conditions for people walking, bicycling, or using other mobility devices throughout the city.
The plan update will build on the 2016 Active Transportation Plan and identify new walking and bicycling projects and programs. The Plan will include strategies to help City staff expand active travel and recreation throughout Clovis to improve quality of life. 
The Clovis Active Transportation Update Plan will focus on developing an active transportation system  that is:
Safe and comfortable for all ages and abilities
Connected to important destinations
Based on an equitable process and outcomes
Supports recreational opportunities
Promotes more walking and biking!

Get Involved!
Public input is an important part of the Plan. Check here for details about the project and to find opportunities to get involved throughout the planning process. The Plan will use online maps and surveys, focus groups, and community events to collect public feedback during key project milestones.
Public Events
Meetings and Workshops
The City of Clovis held the first Community-wide Meeting, on July 28, 2021, to gather public input into the ATP Update for 2021. Please click on the PDF link below to view the Presentation provided at the meeting; and also provide comments through our WebMap link below.
Email Us
Please reach out to us with any questions or comments.
Claudia Cazares, Management Analyst
(559) 324-2387
Schedule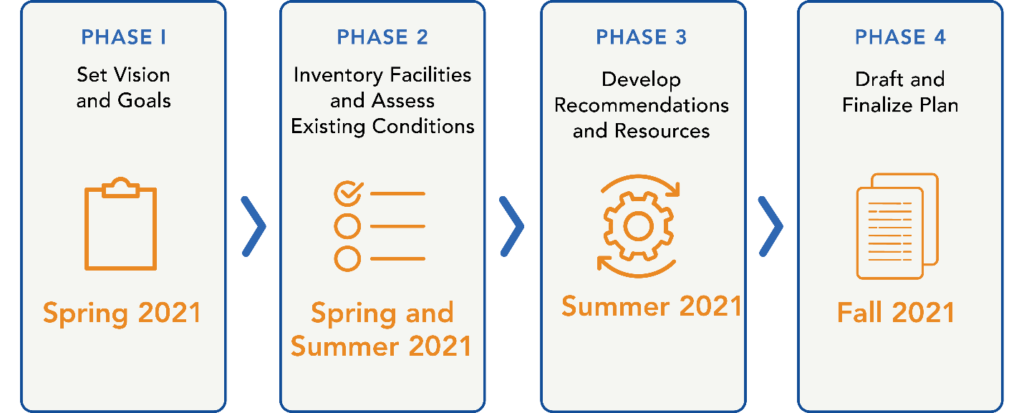 In Phase 1 we will work with the project team to update the vision and goals for the Plan.
In Phase 2 we will inventory existing facilities and assess conditions for walking and bicycling. Community members will be asked to identify challenges and uncomfortable facilities they experience while walking and bicycling and barriers that prevent them from walking, bicycling, or rolling more often. Opportunity for community input!
In Phase 3 we will develop project lists and resources to help the City identify, prioritize, and implement projects. Community members will be asked to provide input on draft recommendations before they are finalized. Opportunity for community input!
In Phase 4 we will reconcile public input and stakeholder feedback to create the draft and final plan. We will present the plan to City Council and the Planning Commission for adoption.
Documents
Stay tuned for links to download draft plan documents