"To those we serve, we want to be the best."
The Clovis Police Department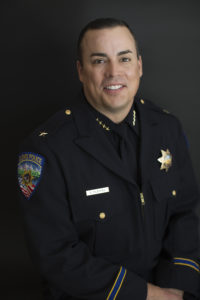 The Clovis Police Department is dedicated to serving the citizens of Clovis. We are committed to fighting crime through all traditional and creative means feasible to protect our residents and visitors. Our goal is to remain the "Safest City" in the Central San Joaquin Valley.
The Clovis Police Department serves a community of 119,175 people. The "Clovis Way of Life" is not just a motto, but also a culture and a belief. The success of the Clovis Police Department comes directly from its citizens, professional staff and the dedicated officers who patrol the streets.
We are proud to be ranked as the safest city in the Central Valley, and listed in the top ten percent of cities in national rankings. Clovis was also recently named as the #1 "Best City in California to raise a family." These are true testaments to all of the employees and volunteers who work diligently to provide a secure community for us all.
I thank the citizens of Clovis for their ongoing support of the Clovis Police Department. Together we continue to make our city a great place in which to live. It will always be the mission of this department to provide superior protection and service in a manner that builds public confidence and improves the quality of life in our community.
Curt Fleming
Chief of Police