Current Projects
Please see below for information about our summer roadway projects. For information about other current projects, click one of the following links:
Willow Avenue Widening Project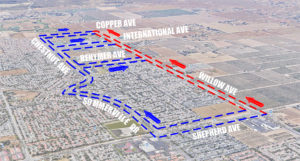 The City Of Clovis is undertaking the widening of the Willow Avenue northbound lanes from Shepherd Avenue to north of International Avenue.  These improvements will add 2 additional travel lanes to the existing single lane roadway, as well as an 8 foot shoulder, raised median and street lighting.  In addition to the road work, the City of Clovis will extend its northern boundary by constructing sewer and water infrastructure necessary for the development of the Heritage Grove Community.  The addition of the travel lanes as well as utility improvements will insure this vital stretch of Willow Avenue will prosper for efficient travel, safety and future growth in the vibrant northern area of the city.   Construction for this project will begin in June and end in December.  All major intersection targeted closures will be in summer to reduce the impacts on the 2019 fall school semester.
Temperance Roundabout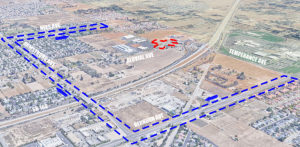 The project consists of replacing the existing signalized intersection with a multi-lane roundabout. Replacing the signalized intersection with a roundabout will eliminate the operational delay from the signal. The intersection of Alluvial Avenue/Owens Mountain Parkway and N. Temperance Avenue is approximately 375 feet north of the State Highway System; operations of the intersection can impact the Temperance Avenue interchange on State Route 168 due to the close spacing and the expected traffic. Caltrans has expressed concerns that queues on the northbound approach to the signalized intersection of Temperance and Alluvial will block the westbound off ramp from State Route 168 in the future, primarily as a result traffic expected to be a generated by the Research and Technology Business Park and other planned land uses in the area. With the installation of a roundabout, the potential of operational issues is expected to be significantly lessened.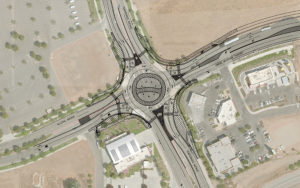 Click here to learn how to use a roundabout. 
Click here to read about roundabouts in the Central Valley.
Shepherd & Minnewawa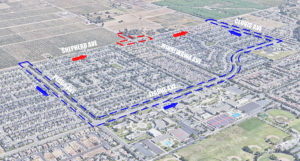 The City of Clovis plans to install signal lights to alleviate traffic congestion at the intersection of Shepherd Avenue and Minnewawa Avenue.  The current intersection is regulated by a four-way stop. The proposed improvements will improve the flow of traffic, and is the first step of the future northern expansion of the city with the Heritage Grove Community.   This intersection was designed to not impact the historical Garfield School monument, where a city park will be constructed in the future.  Construction for this target will begin this summer and be complete in early fall of 2019.