Other Projects
Please see the other tabs for information about our summer roadway projects. For information about other current projects, click one of the following links:
Temperance Roundabout
Construction update as of 5/15/20: This week the crews have
been working on rough grading and installing storm drain, street light conduit
and a recycled water main. During this first phase of construction, the
intersection continues to function as a three-way stop and Alluvial is closed
west of the intersection. All businesses are open in this area and have access.
Please drive with extra caution and patience.
Temperance Roundabout Project
On March 9th, construction began on a project to replace the existing signalized intersection at Temperance and Alluvial with a multi-lane roundabout. The first phase of construction will require Alluvial to be closed to through traffic west of Temperance. Southbound traffic on Temperance will be redirected to the northbound side of the roadway. The intersection of Temperance and Alluvial will function as a three way stop during this first phase of construction.
All businesses in the area will remain open and accessible throughout the project.
Replacing the signalized intersection with a roundabout will eliminate the operational delay from the signal.
The intersection of Alluvial Avenue/Owens Mountain Parkway and N. Temperance Avenue is approximately 375 feet north of the State Highway System; operations of the intersection can impact the Temperance Avenue interchange on State Route 168 due to the close spacing and the expected traffic.
Caltrans has expressed concerns that queues on the northbound approach to the signalized intersection of Temperance and Alluvial will block the westbound off ramp from State Route 168 in the future, primarily as a result traffic expected to be a generated by the Research and Technology Business Park and other planned land uses in the area.
With the installation of a roundabout, the potential of operational issues is expected to be significantly lessened.
Anticipated completion of the project is winter of 2020. The project is being funded by a federal grant from the Congestion Mitigation and Air Quality Improvement Program (CMAQ), which is administered by the Federal Highway Administration (FHWA).
Please follow this site as we will post regular updates on the project.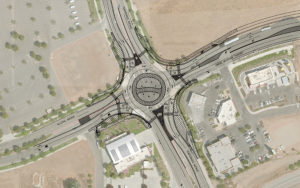 Click here to learn how to use a roundabout.