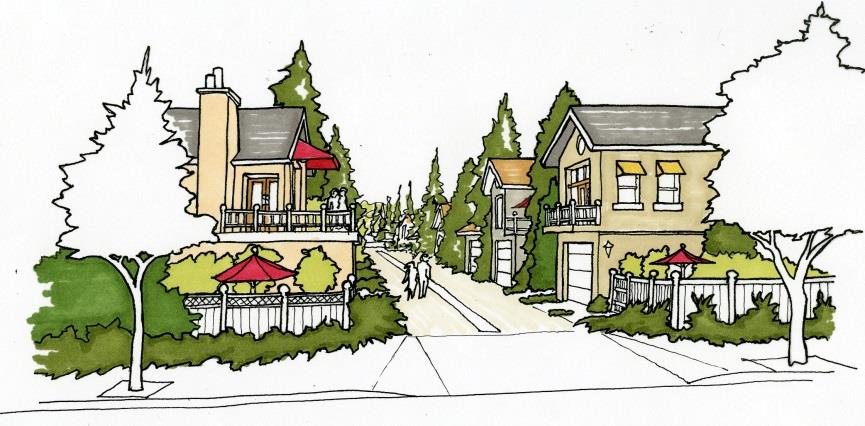 Welcome to the Cottage Home Program!
In an effort to encourage infill residential development in the Old Town area, the City of Clovis has developed several "Cottage Home" plans that may be utilized on properties having alley access. These home plans (of less than 400 square feet of livable space) are intended to orient onto alleys and provide for a unique pedestrian street environment while also revitalizing the alleys and creating more housing in the highly desirable Central Clovis area.
The Land Use Development Standards of the Central Clovis Specific Plan, PR(Pedestrian Residential) allow for standard Single Family Residential homes in that area. However, when an alley or side street access is available, those standards allow for an accessory (or secondary) residential unit of up to 400 square feet. (This allows the creation of pedestrian scale neighborhoods facing onto alleys and trails.) Each secondary unit shall have at least one 10′ x 20′ covered or uncovered parking space dedicated to that unit. Separate utilities may be installed but are not required.
Requirements
Properties must be located within the boundaries of the Old Town Cottage Program (see map)
Cottage Homes will be owned by the property owner
The City of Clovis provides the cottage home plans at no cost
All other cost at the owners expense
Must have access to an alley
Property must have adequate space to accommodate the unit and its one required parking space (10′ x 20′)
Cottage Home must have access to utilities. 
To Begin the Process
A preliminary meeting to see if property qualifies for the Cottage Home Program.
Basic floor plans to see which cottage home best fits your property.
Not-for-construction plans to get contractor bids.
Building permit submittal package.
Fee-waived checked plans.