Mayor Pro Tem Vong Mouanoutoua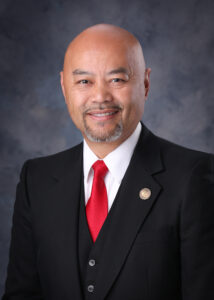 Vong came to the United States of America on Monday, November 15, 1976.  His family immigrated here as refugees from Laos, after the kingdom of Laos fell to communist rule. Many Hmong fought alongside America during the Vietnam War; however, their battles were fought in neighboring Laos in a "Secret War," that few knew about. Over one third of the Hmong people died in that war while rescuing downed American pilots, stopping the Ho Chi Minh trail, and conducting special ops missions. Laos fell, and with it, so did freedom for an entire nation.  Thus, the Hmong had to leave a homeland that no longer welcomed them.
For many Hmong families, this thirst to live as free people led them to America and consequently, here to the Central Valley.  Vong's father always shared with his children:
"America provides the best opportunities for a successful life.  If you work hard, be honest, serve others, and remember God; it will lead to a worthwhile life."
Vong moved to Clovis from Huntington Beach in 1996.  He studied at UCLA and went on to obtain his Juris Doctorate degree from San Joaquin College of Law.  He currently works as the Solar Director for Fresno EOC, helping to ensure that low-income families receive solar on their homes.  He also teaches at Fresno State. On Sundays, he loves teaching the children at his church.
Passionate about service, Vong has and continues to serve in many capacities on various organizations within the community.  Most notably, he spent over ten years on the Clovis Planning Commission – the last four as Chair.  With encouragement from his wife Jane, his five children, and his family, Vong is humbled and honored to serve the Clovis community as their Councilmember.
His father was right… Clovis is the shining example of worthwhile lives living together in America.  Its residents are people who work hard, who live honestly, who love serving their fellow neighbors, and who fear God.  Coincidentally, this is nothing short of what many call "The Clovis Way of Life," and it is contagious.
Grateful for this amazing City, Vong will work hard to make sure everyone is welcomed in Clovis and that our "Way of Life" continues for you, your children, grandchildren and many many generations thereafter.
Biographical Data
First elected into office: March 2017

Term: 

through November 2024
Current Employment: Director of External Relations & Project Development, Community Medical Centers; Lecturer, Fresno State University
Community Service (past and present): National Selective Service Board; The Foundation at Fresno County Office of Education; Community Medical Centers; San Joaquin Political Academy; Fresno Economic Opportunities Commission; Children Services Network; Fresno County Local Child Care and Development Local Planning Council; The Mouanoutoua Foundation; Fresno County Human Resources Advisory Board; Clovis Unified School District Southeast Asian Conference; Boys and Girls Club; Fresno County PROFITS Committee; West Fresno Faith Based Organization; Red Bank Elementary, School Site Council; Clark Intermediate SART; Measure C Citizen's Oversight Committee; Fresno State University – President's Commission on Human Relations and Equity; Fresno State Dog Days; Leadership Clovis; Clovis Exchange Club; Red Bank Elementary School Parent Teacher Club; Cub Scouts – Pack 11; Boy Scouts – Troop 60; Lao Evangelical Church Headquarter; Hmong Educational Task Force; Lao Evangelical Church of Fresno; Fresno County Voluntary Preschool Master Plan; Hmong New Year; Great Valley Center IDEAL; Academic Decathlon; First 5 Fresno County Hero Awards… (Partial List)
Mayor Pro Tem Mouanoutoua may be contacted via email or by phone at the number below.