Councilmember Matt Basgall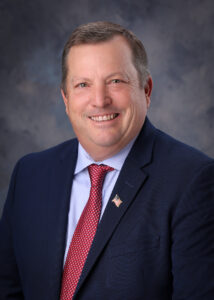 Matt Basgall brings nearly three decades of law enforcement, administrative and leadership experience to the Clovis City Council.
Prior to joining California Health Sciences University as the Director of School Security, Matt was Chief of Police for the Clovis Police Department. As Police Chief, he was responsible for the safety and well-being of the over 100,000 residents of the City of Clovis as well as all police department personnel, including sworn, civilians and 100+ volunteers. Chief Basgall successfully administered the Department's $30+ million dollar budget and ensured the funds entrusted to the police department were spent efficiently. During his tenure, Chief Basgall's priority was always to keep Clovis the #1 Safest Community, a goal which was successfully met each year. To ensure the continuity of safety, he developed and implemented new and creative ways to maintain the stability of the Department's operations, the safety of the community and the morale of the officers.
Basgall's career with the Clovis Police Department began as an Officer; he later promoted through the ranks of Corporal, Sergeant, Lieutenant, Captain and ultimately, Police Chief. He is a graduate of California State University, Stanislaus and went on to receive his certification from the California Peace Officers Standards and Training, as well as a host of specialized Executive Certifications, including the completion of the prestigious Command College.
Matt believes in a strong commitment to teamwork, creativity and effective communication to preserve the continued safety and success of the City of Clovis mission and vision. He is a strong believer in community first.
Basgall currently serves as the Chair of the Men's Leadership Council for the Marjaree Mason Center. His long-standing service to Marjaree Mason began with his position on the board and later as Board Chair.
Residents of Clovis for nearly 50 years, Matt and his wife Joni are the parents of two daughters, Madison and Carly. Madison is an elementary school teacher who recently married Jerome Coelho. Carly is a graduate of California State University, Fresno and is currently employed as a health care recruiter. Roscoe, the Basgall family's much-loved rescue dog, was adopted from the Miss Winkles Pet Adoption Center.
Biographical Data
First elected to office: December 2022
Term: through November 2026
Councilmember Basgall may be contacted via email or by phone at the number below.