Excitement is growing at Landmark Square, where two new City of Clovis facilities are taking shape.
Located at Third Street and Veterans Pkwy, the new Clovis Senior Activity Center: A Smittcamp Family Legacy, is the building going up on the west side of the property.
When completed in the 2023, it will take the place of the current facility located on 4th Street.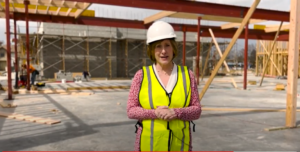 There you will find a link to a web camera to view the construction taking place live, and also learn more about how you can donate to this project, which will serve seniors throughout Clovis and the entire Central Valley.