The ongoing health emergency is causing concerns and anxiety for many residents, but there is one thing you do not need to worry about and that is the safety and reliability of your water.
City of Clovis drinking water continues to be safe, reliable and is closely monitored.
Additionally, Clovis conserves our water resources by irrigating with recycled water which is transported through the City's purple pipe system which is also closely monitored.
Recycled water goes through an extensive treatment process that includes disinfection which kills or inactivates bacteria or viruses that might remain in the water. The recycled water comes through a different system than drinking water and never mixes with the water which is delivered into your homes and businesses. Areas irrigated with recycled water are identified by signage.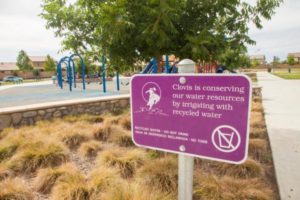 If you have questions about your water please don't hesitate to call 559-324-2600.