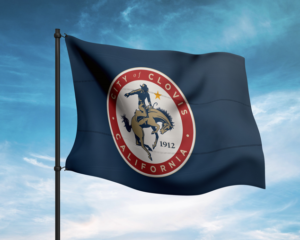 During the Clovis City Council Meeting on December 7, the Clovis City Council unanimously approved a design for a new City of Clovis flag.
Mayor Drew Bessinger, who was instrumental in the design process said, "I brought forth the idea about a year ago, and tabled it due to the pandemic crisis. I wanted to complete this project before my term as mayor ends.
After reviewing several options, we settled on a red-white-blue flag with the "Bronco Billy" logo and the date of our incorporation. The gold star is placed to honor the men and women who have died serving our great nation. We hope to have them hoisted sometime early next year."
You should expect to see the new design flying on flagpoles throughout the city in early 2021. The flag will also be available for purchase by those interested. Information on how to purchase a flag will be posted on our city website and social media accounts.