An evening of food, family, live music, fireworks and fun is set to take place on Saturday September 28 during this year's Clovis Night Out. Happening from 4pm- dark at Sierra Meadows Park near Temperance and Sierra, this annual community event is expected to be the best one yet.
Clovis Night Out is the Clovis Police Department's take on the well-known National Night Out event, which encourages community members to come out and meet members of law enforcement in a relaxed, friendly environment.
The Clovis event takes the concept and runs with it. In addition to interacting with members of the Clovis Police Department, residents will also mingle with members of the Clovis Fire Department, Public Utilities and other departments which keep Clovis running.
There will be more than 100 food, commercial and non-profit vendors providing opportunities for your family to eat, shop, and get to know your neighbors. And for the first time you can access ATMs at the park, so it will be very convenient to have enough cash on hand for dinner, snacks and plenty of locally made goods.  Live music begins at 6 p.m. and the always popular Fresno State Bulldog Blitz Skydivers drop in at approximately 7 p.m.
Police Chief Curt Fleming stated, "We invite families from every neighborhood in Clovis to come meet the women, men and K-9s all committed to help keep this city safe. We look forward to meeting you!".
Clovis Night Out is brought to you by the Clovis Police Department and Table Mountain Rancheria. Please see below for a complete schedule, full list of vendors and map.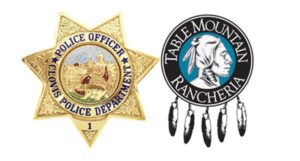 Schedule
4pm- Clovis Night Out begin
6pm- Live music
7pm- Bulldog Blitz Skydivers
Dark- Fireworks program
Food, Entertainment, Vendors and Non-profit organizations
Food Vendors:
Summertime Pies
Kona Ice of Fresno
50's Place Kettle Corn
Gorilla Gurt Dippin' Dots
Sweetie's – Cotton Candy & hot dogs
Salsa's Cantina – tacos & burritos
Fire House Subs – sandwiches & drinks
Yosemite Concessions- Corn dogs, garlic fries
Goody's Mini-donuts
Ooh De Lolli- Cheesecake on a stick
Buchanan High School – Tri-tip
Jerky Jerky
The Quirky Café Food Truck- Burgers & nachos
Spoon & Fork- Filipino Food
Bread and Butter – Cakes & pastries
Sanchez Corn – Roasted corn
Nanas Lemonade
LOLO Shaved Ice
Cherry on Top -Ice cream
Entertainment:
Clovis Recreation Center
California Jumping
Lady and the Tramps
Epic Games 2 go
Vendors/Booths:
Table Mountain Casino
All That Glitters
Fathom Fx- Face & Body Art
CARD- Center of Autism
KSKS
iHeart Media
Reptile Ron
Flatline CPR
JR's Sports
Isabelle's Boutique
DOTERRA
Busy Bee Lipstick/LipSense
Son-Light Society
Refinery Clovis Church
Senator Andreas Borgeas
Dot Dot Smile
CC Bling
Clovis True Value
Damsel In Defense
Color Street
IMM3RSE.IN
Fresno Kenpo Karate- Mile High
CJ Campbells Creations
The Home Depot
Cruises Inc.
Allstate Agency: The Phanco Group
Paws 4 Safety
Lucy Haro
Feral Dragon Soapery
Chris' Creations
Clovis Chamber of Commerce
The Morgans Sparkling Treasures
Blackbeard's Family Entertainment
Sonrise Church
Scentsy Candles
Home Instead Senior Care
Sandbox Academy
Family Healing Center
House of Mags
Heavenly Gems
Bases Loaded
Full Circle Designs
Inspire Charter Schools
Isagenix
Celeese's Bows
California Trophy
Power Chiropractic Health
Munecrow's Baubles
Evans Energy
Pumpkins and Parsnips Embroidery
Fit4mom
Kindred Surrogacy LLC
Sterling Carpet Cleaning
NAWT Just Knots
Assemblyman Jim Patterson
Chill Dog
Sunmade Enery
Lupe Alvarez
Crescent View/Learn 4 Life Schools
Bella Tumbler
Clovis Veterans Memorial District
Synlawn
Simply Fun
Rising Star
Creative Crochet
Center Stage Clovis
Jocelynn's Gift of Hope
Fresno Vanguard Krav Maga
Mary E Style
Guideo's Martial Arts Academy
Foothill Training
Mary Kay
Extreme Off Road & Repair Inc
Clovis Elks
Quality Family Services
Les Schwab
Esther Tie Blankets
Phil's Custom Benches
Sanchez Designs
Rosie's Crochet Items
American Legion Cecil Cox Post 147
3 Blind Mice Window Coverings
Classic Pool Service
Between the Seams
California Rescue Dog Association
Sonitrol Security
Realty Concepts
Celebrating Home & Ultimate Health
Patriot Wood Designs
W Furniture, Inc.
Crafty Crafts
California Bujinkan Dojo
Noble Credit Union
Fresno County Public Works & Planning
Marjaree Mason Center
Debug Fresno
Rush 10-8
 Location: