On April 3rd, the Fresno County Local Agency Formation Commission (LAFCO) approved a City of Clovis request to add 1,035 acres to the city's Sphere of Influence for land that is designated to be a significant  job generator for the region.  A Sphere of Influence is the area in which a city plans to urbanize.  Clovis' General Plan identified this area for significant job generation, designating over 500 acres for jobs, 225 acres of open space, and 325 acres for residential uses.  The area is unique for assembling development land due to the fact that four families own approximately 85% of the area and share the City's vision for top quality job and residential projects for the site.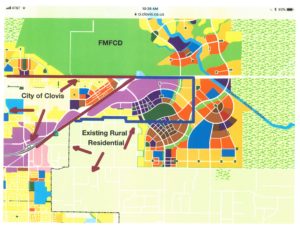 The designated area is adjacent to State Route 168 which provides excellent access to the metropolitan area and a connection to state highways and is proximate to the award-winning Harlan Ranch residential community.  The site also enjoys other benefits including the award winning Clovis Unified Schools, Clovis Community Regional Medical Center, the California Health Sciences University and the successful Sierra Gateway District business corridor.
Regional leaders have expressed optimism about the opportunities available for the newly added property.  Mayor Bessinger of Clovis said, "this is a huge opportunity for Clovis and the region to see significant quality job growth, we have worked together as a region to make land available that can accommodate at least 10,000 jobs."
The CEO of the Fresno County Economic Development Corporation Lee Anne Eager who was an early and strong advocate for the project stated, "the City of Clovis and Fresno County lack available space to locate large employers so we look forward to this area being available to attract high-quality jobs to our great county."
More steps remain to develop the project, but the property owners and City of Clovis officials are very optimistic that including the property into the City of Clovis Sphere of Influence is the first step to creating a regionally significant quality job-based mixed use development.