Mayor Jose Flores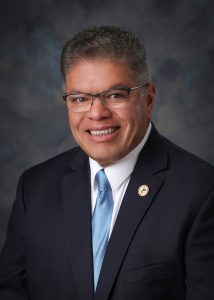 Mom and Dad came to Clovis in 1956, as newlyweds and absolutely nothing to call their own. As new arrivals, they dedicated themselves to setting goals and working hard to achieve the American Dream. They soon had a small family and a small home to call their own. The young immigrant couple was welcomed and prospered in Clovis. Back then Clovis was a small, safe and clean town with a great school system.

As a lifelong resident of Clovis, I believe it is the Council's responsibility to embrace the history of our city and build on the legacy left by those who came before us. The founders of Clovis were innovative and had foresight. They planned for the future of their children and grandchildren and not just themselves. They left the city better than they found it. They took their entrusted stewardship as a solemn duty.

Today's Clovis City Council also holds its stewardship in reverence. It has developed into a team of civic leaders with different ideas and diverse backgrounds that engages the whole community in developing a common vision for our city to pursue. The Council has hired and kept highly competent professionals with proven ability to bring the community's vision to fruition. Clovis City Employees are an integral part of our community's success. Over the years Clovis has grown yet still preserves the character and values my parents discovered decades ago.

It has been an honor and a privilege to serve on the City Council and be a part of the city team that has kept Clovis the Safe and Clean City our founders envisioned. Our town has continued to grow, but it still preserves that small-town feel. Our educational systems are world class, and we are becoming an economic engine in our region. It is no wonder Clovis has been named one of the best cities to raise a family in Fresno County. Recent arrivals to our city have confirmed to me that Clovis is still the welcoming community that embraced my parents and helped them thrive.
Biographical Data
First elected to office: March 1999, served as mayor 2001-2003, 2011-2013
Term: through November 2022
Employment: Chief of Police, State Center Community College District Police Department; previously, Chief of Police, City of Parlier; Adjunct Professor, CSU Fresno; Captain, Fresno County Sheriff's Office.
Education: Bachelor of Arts, Management and Organizational Development, Fresno Pacific University, 1997; Master's Degree, Public Administration, National University, 2004.
Community involvement: Clovis Rotary Club, Latino Water Coalition, North Kings Groundwater Sustainability Agency. CSUF Criminology Advisory Committee.
Honors: Top Cop, National Exchange Club, Fresno, 1998; Medal of Honor, Fresno County Sheriff's Office, 1987; Medal of Valor, National Latino Peace Officers Association, 1987
Mayor Flores may be contacted via email or by phone at the number below.