Councilmember Bob Whalen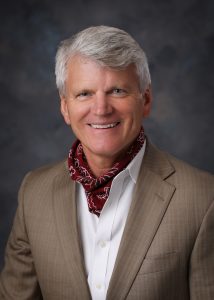 Clovis is a community that knows and respects its history and Councilmember Bob Whalen, whose family has been part of the community for four generations, knows it even better than most.
"According to the stories my mother told me, Clovis was looked down on for many years by others in the Valley.  It was considered a podunk town made up of migrants from the Dustbowl States, Mexico and, more recently, Southeast Asia", Whalen shares. "What others failed to realize," he explains "is that those hard-scrabble, tough-minded people who were willing to work hard, pull themselves up by their bootstraps and make something of themselves have made Clovis the great community it is today.  They had a hard work, no excuses mentality."
In fact, 105-year-old Clovis has been home to every immigrant and Native American group and every ethnic and cultural minority in California – a community working together to build their family's American dreams. Descendants of early settlers like Marcus Pollasky remain today, mingling and working with more recent immigrants to the Central Valley, to create the often-touted "Clovis Way of Life" which involves a tradition of public service, community mindedness and excellence; holding their city to higher standards than anyone else for miles around.
It's hard to argue with the results: top-ranked public schools, the safest city in the Valley, and a community that has consistently been ranked as the Best City for Young Families in California by the consumer information website, NerdWallet.
"While technology has been the niche of Silicon Valley, thanks to its proximity to Stanford University, families are the niche of Clovis. We didn't go looking for that niche, but the niche found us because folks that have come before us have made a lot of good decisions that have created this family-friendly environment," the Mayor stated.  "Our responsibility now is to make sure we don't mess things up as we continue to grow."

"Change is not progress, if you lose your core." Whalen states firmly.  "As we continue to grow, we work to make sure that we encourage interaction and maintain our small town-feel.  Clovis streets are built in a mellow, meandering style with plenty of green space which engenders calmness, not frenzy.  We continue significant emphasis on education, public safety and family-oriented values.  We design villages and neighborhoods within our city to encourage interaction by building trails and parks where people can connect with one another and we preserve our traditional gatherings in Old Town Clovis such as the Farmer's Market, the Clovis Chamber's Big Hat Days and ClovisFest, and our 103 year-old rodeo."
Clovis now has the lowest unemployment rate and the highest household income in the region.  A long way from the days when people used to look down their noses at the folks who lived here.  In fact, people now pay a premium for homes with a Clovis address.  "It's really the result of folks committing to making themselves, each other and their community the best it can be", Whalen explains.
Clovis is now a large city of 108,000 but the Mayor is confident, "we will continue to succeed as long as we maintain our core."  Hard work, no excuses.
Biographical Data
First elected to office: March 2003 

Term:

 through November 2022
Employment: Deputy District Attorney, Fresno County; previously, an investment executive for PaineWebber.
Education: Juris Doctorate, Regent University, Virginia Beach, Virginia; Bachelor of Science in Finance, California State University, Fresno
Community involvement: Board of Directors, San Joaquin College of Law; Board of Advisors, Clovis Salvation Army; Public Safety Committee, League of California Cities; Policy Board, Fresno County Council of Governments.
Previous political involvement: Chairman, Fresno County Prosecutors' Association PAC; President, Fresno County Young Republicans; Chairman, California State Student Association; Student Body President, California State University, Fresno.
Councilmember Whalen may be contacted via email or by phone at the number below.