On Friday, January 21, 2022 the City of Clovis hosted an online public meeting to share information and receive feedback about proposed modifications to the Research and Technology Park (R-T Park) area, with the boundary as shown on the map.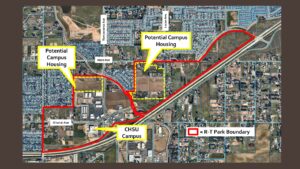 The information shared in the meeting has led to social media discussions on the matter. Some of the information being shared is inaccurate or confusing. The intent of this post is to clarify information and provide the opportunity for comments to be heard.
What is being proposed and why?
In January of 2021, the Clovis City Council provided direction to City staff to correct some of the inconsistencies between the land use and zone districts in the R-T Park area. A follow up discussion on the matter took place February 8, 2021, where the Clovis City Council voted to enter into a Memorandum of Understanding with California Health and Sciences University, which provides guidelines for campus housing to serve the current and anticipated growth of the University, including where campus housing would be allowed, and potentially be built in the R-T Park area, also shown on the map. CHSU boundaries include Hwy 168 to the south, Nees to the north, Locan to the east, and N. Armstrong to the west.
What kind of housing is being built?
At this time, none. There is no actual application for a specific development project; however, the efforts the City is undertaking would lay the foundation for student and faculty housing in designated areas near the campus, if approved.
What happens next?
There will be a second meeting on this same topic in late February or early March. When the date and location is set, that information will be shared with the community.
In the meantime, if you have questions please contact Deputy City Planner Ricky Caperton at RCaperton@CityofClovis.com or 559-324-2347.